Why should we be eating more plant-based?
Posted by PROPROTEIN LTD ADMIN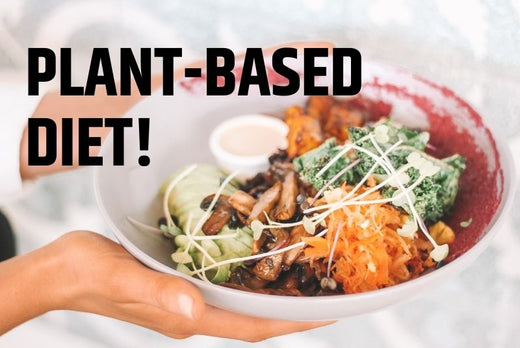 Good question! To many people, the thought of having a meal without any meat just seems completely out of reach! "I'll lack protein in my diet", "I won't feel full" and "How do you even cook with pulses and beans?" are statements and questions that are heard far too often! Plant-based does not mean cutting all sources from animals out of your diet. It's just the suggestion of having one, two or as many days as you can, eating more of a variety of protein sources. It can be as extreme or minimal as you wish, it could be the stepping stone to becoming vegan (if that's something that interests you) or it could be as simple as having a meat-free Monday to incorporate a meal with fewer calories and to have a cheaper meal. Furthermore, it is an aim to use less processed foods, meaning as much organic and wholemeal food options as possible. Whilst the plant-based eating is often confused with a vegan/vegetarian diet, it focuses less on completely excluding animal products whilst focussing more on the quality of the ingredients.
This brings us to how easy it is to produce plant-based delicious meals with quick and easy recipes that will take no time at all!
Red Bean rice
Similar to the classic Chilli con Carne in taste and so easy to prepare and serve in 40 minutes!
Ingredients: (serves 4)
Low-calorie cooking spray (spray light)
1 onion (red preferred)
2 garlic cloves, finely chopped
275g dried brown long-grain rice rinsed
400g frozen mixed veg
400g can red kidney beans in chilli sauce
400g can of butter beans
1tsp Cajun seasoning
500ml boiling vegetable stock
Salt and freshly ground black pepper
Parmesan (to serve, optional)
Method:
Finely chop the onions and garlic cloves.

Weigh ingredients such as rice, frozen veg, prepare stock and Cajun seasoning. Rinse and drain butter beans.

Spray a large, non-stick, lidded, saucepan with the low-calorie spray, then place over medium heat. Add onion and garlic and stir fry for 3 minutes or until they appear slightly golden.

Stir in the rinsed rice, frozen vegetables, butter beans, stock and cajun seasoning. Lightly season to taste. Turn the heat to high and bring to the boil. 

Cover tightly and reduce the heat to low and allow to simmer for 12-15 minutes, stirring every 4 minutes to prevent the rice from sticking to the pan.

Turn off the heat and leave to stand for 10-15 minutes (the longer it is left, the tastier it becomes!)

Stir before serving, add an optional sprinkle of parmesan. Serve hot.
Nutritics: (per portion)
Energy (kcal): 374 Carbohydrates (g): 56 Of which sugars (g): 9.9 Protein (g): 21 Fats (g): 3.4 Of which saturates (g): 0.6 Fibre (g): 18 Salt (g): 1.8
As you can see from the Nutritics of the recipe for one portion, it has low calories, high protein, low saturated fat, high fibre; all plant-based!
Beast's pasta- Ideal lunch dish to make before a busy day in the office! Enjoy hot or cold!
Ingredients: (serves 4)
Low-calorie cooking spray (spray light)
6 garlic cloves (thinly sliced)
1 & ½ tsp dried chilli flakes (to taste)
500g passata
500g pasta (ideally brown pasta)
30g fresh basil leaves, shredded
15g fresh mint, roughly chopped
15g fresh parsley, roughly chopped
100g wild rocket leaves, roughly chopped
Salt and black pepper 
 Method:
Spray a large non-stick frying pan with low-calorie cooking spray and place over a medium heat

Add garlic and fry for 1-2 minutes or until fragrant

Stir in chilli flakes and fry for a further minute, then add the passata. Add some water if it appears too thick. Turn to high heat to boil then immediately to low heat to allow it to simmer for 15-20 minutes.

Cook the pasta according to the packet instructions whilst the sauce is cooking.

Drain the pasta well, then add in the sauce, herbs and rocket.

Season to taste and serve hot.
Nutritics: (per portion)
Energy (kcal): 503 Carbohydrates (g): 85 Of which sugars (g): 12 Protein (g): 21 Fats (g): 4.4 Of which saturates (g): 0.7 Fibre (g): 15 Salt (g): 1.5
How can the meals satisfy my hunger when they're only 374/503 calories per portion?
These meals have high quantities of brown carbs, vegetables and pulses whilst having low saturated fat contents. Referring to our weight loss guide, wholemeal (brown) versions have more fibre compared to refined (white) carbs as the carb is unrefined and therefore holds more nutrients such as B vitamins whilst keeping us fuller for longer as each grain has more fibre (3). Vegetables are a fantastic way of having a high volume of food, vitamins and minerals whilst keeping the calorie count low and have been studied to show a negative correlation with the development of chronic diseases (4). In our high protein foods guide, we explain how a meal with a high protein content will satisfy your hunger for longer as the protein releases the satiety hormone whilst suppressing the hunger hormone (1), (2).
A deeper understanding of the health reasons of part-taking into having a more plant-based diet
Studies show that a plant-based diet could be beneficial for the prevention and treatment of type II diabetes, as it limits processed foods, refined carbohydrates, saturated fats and animal products whilst increasing intakes of whole grains, organic foods, unsaturated fats, plant proteins, fruits and vegetables (5). 
Multiple studies (12 in total) suggested that those told to eat a plant-based diet compared to those who ate a non-plant based diet in the study lost significantly more weight over a period of 18 weeks- 2kg more weight lost (6). The group who ate plant-based lost more weight due to the previously listed characteristics of a plant-based diet, more fruit and vegetables, less processed foods, lower calories because of high protein and low saturated fat but high satiety ratings.
Various studies show that a plant-based diet can prevent other health problems such as heart disease (7), and cognitive decline due to the high volumes of polyphenols in plants which have been recognised for their high antioxidants and prevention against free radicals within the body which damage the bodies' cells but if the rate is slowed by the polyphenols there is a lower risk of damages such as cancer, heart problems and cognitive decline (8).
Why is a plant-based diet more sustainable than a diet with processed foods and meat?
Firstly, the processed foods are made in factories which emit greenhouse gases during production, whereas organic/ unprocessed foods do not go through such an extensive process, therefore, fewer greenhouse gases which impact the environment in the long term (9). Furthermore, an animal needs enough space to move and graze whereas if the same area of land was used for crops, it would be more cost-efficient per square metre as there would be more quantity and less money spent to grow them.
Conclusion
After analysing this information, we think that it would be a beneficial habit for all of us to get involved with at least once a week, to try a new plant-based recipe! In terms of day to day eating, we believe it is extremely important to make the small changes established in the plant-based eating- less processed foods, more whole grains (unrefined) carbohydrates and a wider variety of protein sources to explore the potentials of incorporating more plant-based proteins to lower saturated fats intake whilst potentially having preventative impacts on your long term health. As you can see from the recipes above, it is easy and quick to make delicious meals without being dissatisfied and hungry! As we have seen, there are even benefits for the wellbeing of the world around us by producing less greenhouse gas emissions, and if everyone gave it a go, at least once a week, it would benefit us and the generations to come! Give it a go and see how you get on; remember the small changes often lead to the greatest outcome.
References:
(1) Batterham, R., Heffron, H., Kapoor, S., Chivers, J., Chandarana, K., & Herzog, H. et al. (2006). Critical role for peptide YY in protein-mediated satiation and body-weight regulation. Cell Metabolism, 4(3), 223-233. https://doi.org/10.1016/j.cmet.2006.08.001 
(2) Blom, W. A., Lluch, A., Stafleu, A., Vinoy, S., Holst, J. J., Schaafsma, G., & Hendriks, H. F. (2006). Effect of a high-protein breakfast on the postprandial ghrelin response. The American journal of clinical nutrition, 83(2), 211–220. https://doi.org/10.1093/ajcn/83.2.211
(3) Vanegas, S. M., Meydani, M., Barnett, J. B., Goldin, B., Kane, A., Rasmussen, H., Brown, C., Vangay, P., Knights, D., Jonnalagadda, S., Koecher, K., Karl, J. P., Thomas, M., Dolnikowski, G., Li, L., Saltzman, E., Wu, D., & Meydani, S. N. (2017). Substituting whole grains for refined grains in a 6-wk randomized trial has a modest effect on gut microbiota and immune and inflammatory markers of healthy adults. The American journal of clinical nutrition, 105(3), 635–650. https://doi.org/10.3945/ajcn.116.146928
(4) Liu R. H. (2013). Health-promoting components of fruits and vegetables in the diet. Advances in nutrition (Bethesda, Md.), 4(3), 384S–92S. https://doi.org/10.3945/an.112.003517 
(5) McMacken, M., & Shah, S. (2017). A plant-based diet for the prevention and treatment of type 2 diabetes. Journal of geriatric cardiology: JGC, 14(5), 342–354. https://doi.org/10.11909/j.issn.1671-5411.2017.05.009 
(6) Huang, R. Y., Huang, C. C., Hu, F. B., & Chavarro, J. E. (2016). Vegetarian Diets and Weight Reduction: a Meta-Analysis of Randomized Controlled Trials. Journal of general internal medicine, 31(1), 109–116. https://doi.org/10.1007/s11606-015-3390-7
(7) Satija, A., Bhupathiraju, S. N., Spiegelman, D., Chiuve, S. E., Manson, J. E., Willett, W., Rexrode, K. M., Rimm, E. B., & Hu, F. B. (2017). Healthful and Unhealthful Plant-Based Diets and the Risk of Coronary Heart Disease in U.S. Adults. Journal of the American College of Cardiology, 70(4), 411–422. https://doi.org/10.1016/j.jacc.2017.05.047 
(8) Malar, D. S., & Devi, K. P. (2014). Dietary polyphenols for treatment of Alzheimer's disease--future research and development. Current pharmaceutical biotechnology, 15(4), 330–342. https://doi.org/10.2174/1389201015666140813122703
(9) Aleksandrowicz, L., Green, R., Joy, E. J., Smith, P., & Haines, A. (2016). The Impacts of Dietary Change on Greenhouse Gas Emissions, Land Use, Water Use, and Health: A Systematic Review. PloS one, 11(11), e0165797. https://doi.org/10.1371/journal.pone.0165797