Chocolate Hazelnut Spread
Posted by PROPROTEIN LTD ADMIN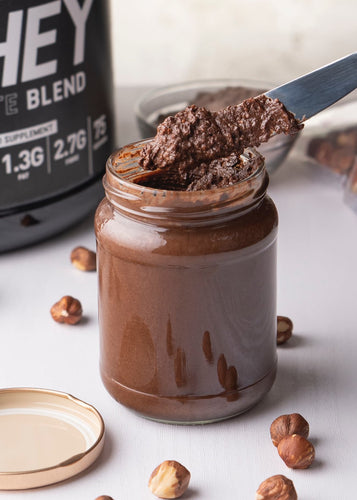 Who wants a homemade Nutella recipe? This chocolate hazelnut spread recipe makes your favourite creamy hazelnut chocolate spread in no time and it couldn't be easier, as it is only 4 ingredients that are needed. It is so easy to make and it will taste better than anything you can buy in the shops. Ready for this Rich, decadent and delicious recipe?
Ingredients:
150g dark chocolate 
200ml can of full fat coconut milk
3 scoops 8X chocolate
100g chopped hazelnuts
Instructions:
Heat the coconut milk gently in a saucepan over medium heat until steam starts to rise. Do not allow to boil.
Break or chop the chocolate into small pieces, put into a heatproof bowl and mix in the 8X.
Pour the hot coconut milk over chocolate and cover with a lid.
After 3 minutes, gently stir the mixture until silky smooth and glossy.
Add the chopped hazelnuts and mix thouroughly. 
Transfer the mixture to a jar and refrigerate for 2 hours or until solid.
You can also check out our very delicious Chocolate MYOBARs, now with 9 added vitamins.