Blueberry Lemon and Lime Protein Cake
Posted by PROPROTEIN LTD ADMIN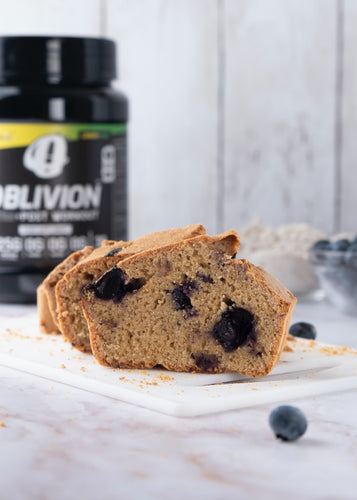 A delicious and light Blueberry Lemon and Lime protein cake recipe that is simple to try and easy to make. It will be worth sharing with those you work with or live with, if you are feeling generous make enough to share with both! We use Oblivion Lemon and Lime to give it the extra tang and boost of protein.
Ingredients
250g Oat Flour
1 1/2tsp baking powder
3 whole eggs (large)
3 egg whites (large)
2tsp vanilla extract
3 scoops Oblivion Lemon and Lime
3tbsp Erythritol 
60g blueberries
Instructions
1. Whisk the egg whites until they form stiff peaks - put aside for later
2. Mix together the flour, baking powder,Oblivion and erythritol and then add the whole eggs and the vanilla extract. Mix thoroughly before gently folding in the whisked egg whites.
3. Pour the mix into a lined loaf tin and bake at 160oC (fan oven) for 60 mins, or until a skewer comes out clean when inserted into the middle of the cake. Allow to cool on a wire rack before slicing
You can also check out our very affordable Oblivion Plus pouch to get started with some delicious recipes.
Also why not try with our 8X Whey Isolate Chocolate or 8X Whey Isolate Strawberry for more flavours?