Vegan Chocolate Orange Mousse
Posted by PROPROTEIN LTD ADMIN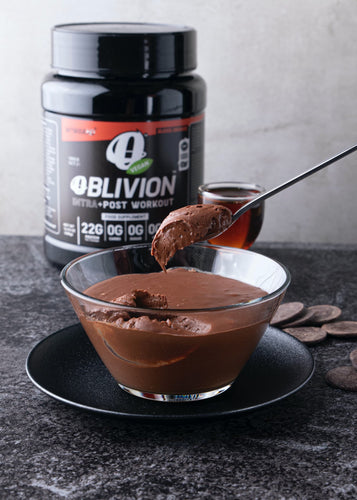 This vegan smooth, creamy chocolate orange mousse is the perfect indulgent but healthy treat. It is so simple and only requires 7 ingredients.
Chocolate orange will always be the go to Christmas flavour for us. If you recently became vegan or trying a vegan diet and lifestyle, we are sure you may miss Terry's chocolate orange (when you ate dairy) and would eat it in one sitting.
We wanted to create a very special recipe that incorporates Chocolate with our Vegan Blood Orange Oblivion Protein. This is a perfect recipe to try and share as Valentines days comes up. 
Right now you can get two Vegan Blood Orange Oblivions for the price of 1, just add two Vegan Oblivion Blood Orange to the basket and in the checkout it will automatically give you one for free! 
INGREDIENTS
1 cup aquafaba 130g (chickpea water from 1 can of chickpeas) 
1 scoop Vegan Oblivion Blood Orange 
1/2 tsp xanthan gum (make sure to use vegan friendly)
75g dark chocolate chips 
50g cacao butter
1 tbsp lemon juice 
2 tbsp maple syrup 
INSTRUCTIONS
Open the can of chickpeas and drain the chickpea water. Place the chickpeas in a container and reserve for another use. 
Use a stand mixer to whip the aquafaba, lemon juice and maple syrup into stiff peaks - this takes around 10 minutes. Aquafaba can't be overwhipped so keep going until you achieve a stiff texture. 
Melt the chocolate and cacao butter using a double boiler or in the microwave and allow to cool for five mins, but ensure that it does not start to set (give it a quick blast in the microwave if needed).
Mix the xanthan gum thoroughly with the Oblivion, then slowly add this to the aquafaba whilst  it is still mixing.
Continue mixing and slowly pour the slightly cooled chocolate mixture into the aquafaba. The peaks will deflate slightly. 
Spoon the mousse into 4 individual bowls or glasses and set in the fridge for minimum 3 hours or overnight.